GET FULLER HAIR WITHOUT SURGERY - SCALP MICROPIGMENTATION
HAIR DENSITY (SCALP MICROPIGMENTATION)
If you usually keep your hair buzzed, or very short or shaved to the skin with a blade, this treatment may interest you. If your hairline is receding or you suffer from pattern baldness, the best option is often to keep you hair real short. With the pigmentation buzz cut, you can do just that but with the look of having a full head of hair. With our micro dots, we can give you your hairline back.
HOW IT WORKS
We implant tiny pigment into the superficial layer of scalp to mimic your actual hair follicle. No analgesia needed. Past clients will qualify the pain pain level to 2 out of ten. We go one dot at the time and we blend it with the rest of your hair.
WHAT TO EXPECT
We will take time to design the most natural hairline similar to what you had before. We will draw it on your skin with a special pen until you are satisfied. The full treatment takes 2 sessions with one optional perfection session. Each session varies between 1-3 hours. You can enjoy music, audio-book or movies while we work. There are also lots of our clients who fall asleep. We make it very easy and comfortable for you. After the first session, you will already have your whole region covered. The second session we will do darker dots in between the first one making it look dense and natural.

Discover at what cost we evaluate your hair density treatment and how fast we can make it happen. Send some photo of your head, and get our feedback. Free or charge.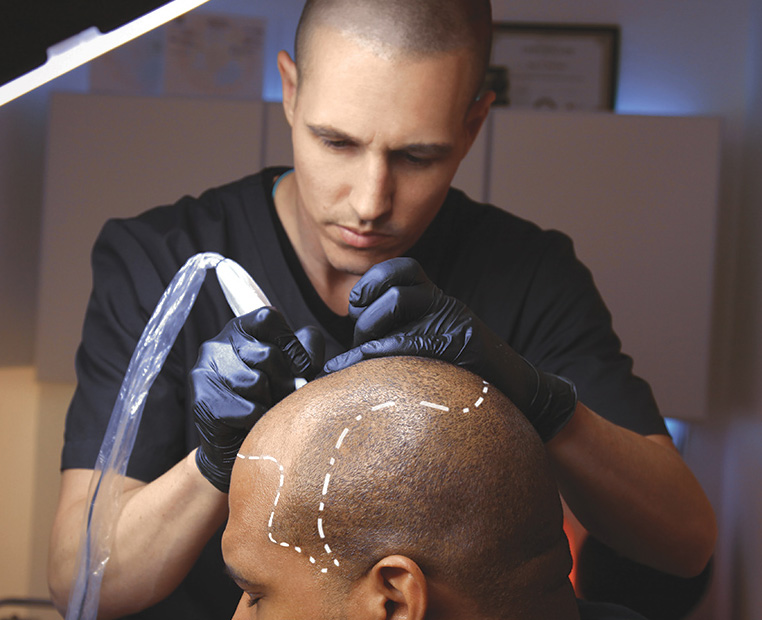 "A Fuller Head for a Fuller Life"
– MICROPIGMENTATION EXPERTS TEAM